Do you miss the smell of clean and fresh air in your car's cabin when you first got your car?
Does your car smell weird whenever you enter the car?
Does your loved ones sneeze non-stop when they ride in your car?
Last but not least, do you find the smell of exhaust fume coming from the vehicles in front of you unbearable?
Here's a little "magic trick" from LMEM and WIX Filters, to help you regain the safe and fresh air you have been missing in your car cabin once again!
So why does your car cabin smell so terrible?
There are several reasons why your car cabin would smell bad. The cause usually comes from within the car cabin itself, such as the habit of eating inside the car, or leaving your wet umbrella in the car, or even using your car to pick up ikan masin from the wet market would eventually cause your car cabin to smell bad. 
This is due to the growth of molds or bacteria in your car cabin and even on the cabin air filter that was supposed to filter off the bad smell. It accumulates over time and will only get even worse. You can always put a car perfume to fight off the smell but you will still be breathing in these microbes that are harmful to your health!
Your passengers always sneeze non-stop after riding in your car?
Well, the bacteria and molds that caused your car cabin to smell bad could also cause harmful health effects on the passengers as well. Apart from that, the dust and pollen that happens to get into the cabin when you open the doors of your car are also the reasons for causing the allergic rhinitis.
The exhaust fumes from other cars are getting into your car cabin?
Sometimes when we stop at the traffic light or at the junction, most of us have ever complained about the lorry that gives out a lot of exhaust smoke in front of us when we smell the fumes in our cabin. This is because our car is not fully airtight, even for a brand-new car. These fumes are harmful to our health as it contains carbon monoxide, nitrogen oxide, sulphur dioxide and other poisonous gases. Our health has been affected even if we complained or chose to ignore the smell.
So how do we prevent all of this?
The terrible smell in your cabin, dust or pollen that causes allergies, and the harmful gases are without a doubt causing irritation and health problems to all of us.
To prevent this, all you need to do are: 
1. Replace your cabin air filter with a WIX Cabin Air Filter!
2. Replace your cabin air filter every 15,000km or 12 months!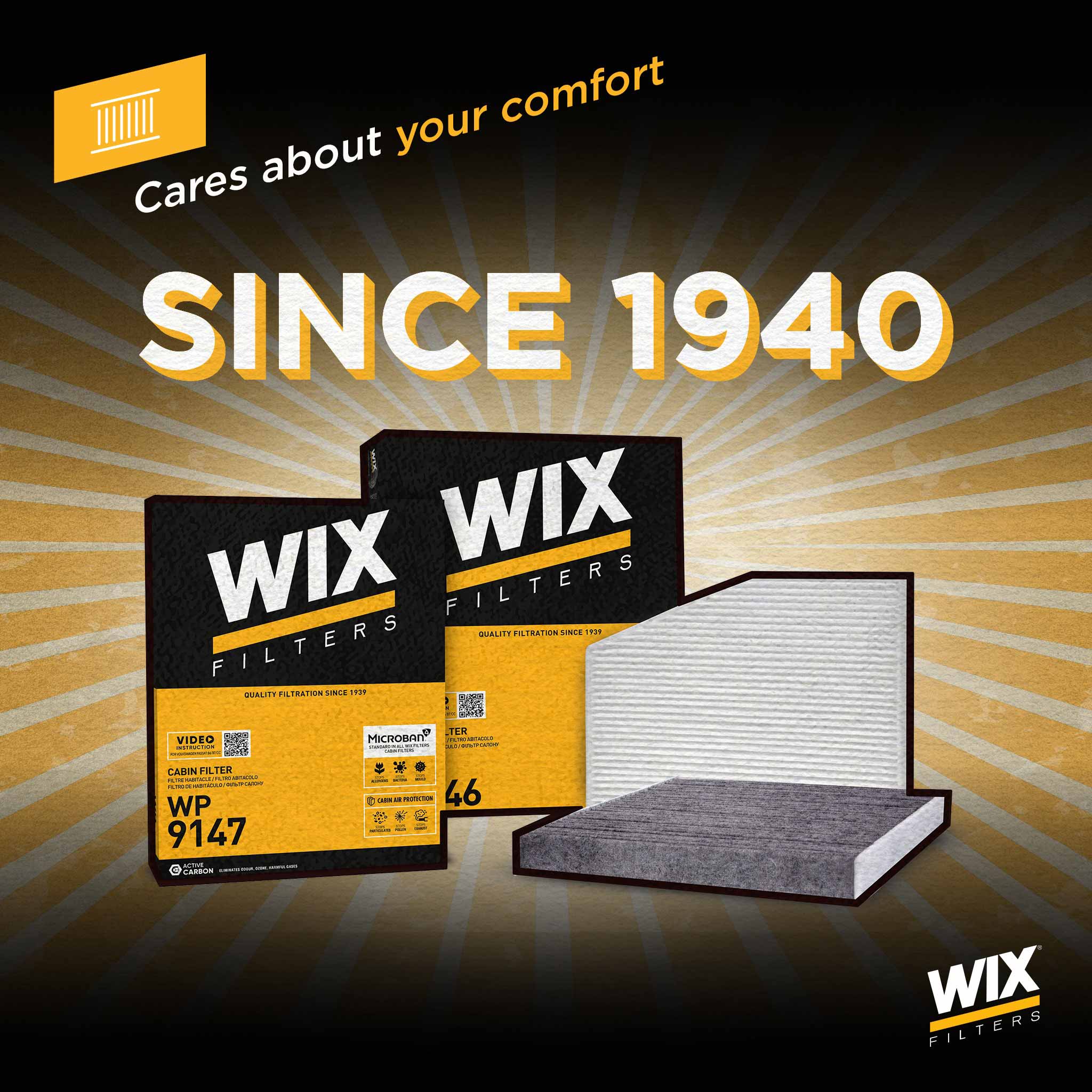 Selected WIX cabin air filters come with Microban Technology, an antibacterial system that effectively removes bacteria and allergens that are harmful to our health in order to keep you and your passengers safe. It is an odourless and non-toxic coating applied on the filter, which effectively stops pollutants and ensures clean safe air in the car cabin.


Apart from that, WIX cabin air filters also come with activated carbon that will remove harmful gaseous particles and other volatile organic compounds so that the air in the car cabin is safe to breathe.
Watch the video below to understand how WIX cabin air filter can do to keep your car cabin safe for you and your loved ones to breathe, and when you should change your cabin air filter!
Breathe safe in your car and care for your loved ones, replace your cabin air filter NOW with WIX Filters!
Link to WIX Cabin Air Filters: CLICK HERE TO REDIRECT TO WIX
Not sure which filter suits your car? 
If you are not sure which filter suits your car model, you can always drop an inquiry to us via WhatsApp by clicking the floating WhatsApp icon on the bottom right of your screen!